Dereelight EDC light-C2H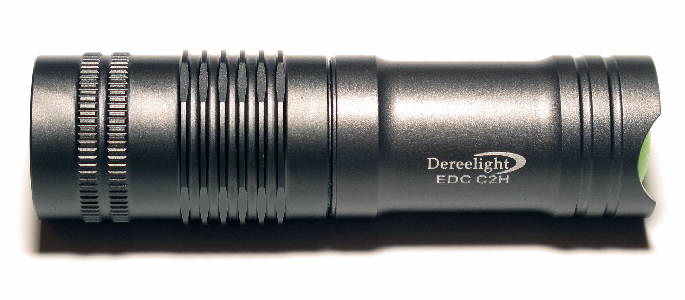 C2H with AA extension tube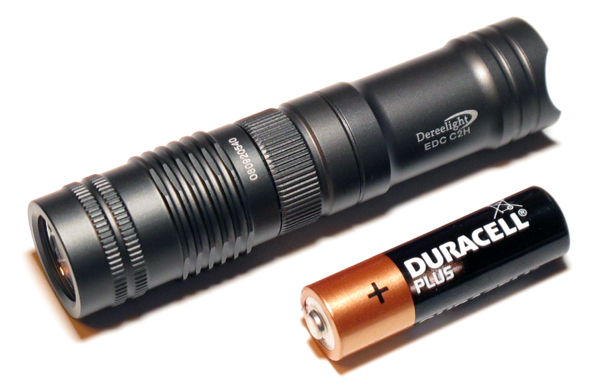 Features:
Cree XP series emitter.
3 stage output.
Battery type 1xCR123A or 1x protected RCR123; 1xAA, 1xprotected 14500 with extension tube
Lock out function achieved by loosening the body.
Upgradeable
Forward clicky
Light coated O.P. reflector
HA III hard anodized finish
Dimensions: 82mm(Length)x 23mm(Head)
Bezel down clip
Tail standing capability.
Anti-roll design
Constructed of aircraft grade aluminum
Water resistant, splash proof or dunkable
Weight: 46-gram weight not include battery.
Lens: Toughened ultra clear glass lens with double sided AR(anti-reflective) coating.
GITD switch cover
GITD lense o-ring
Color: Black available only
Package: Giftbox
Accessories: Extra O-rings, Lanyard, AA extender.
C2H series flashlight-$39.98:
More pictures
C2H body + Javelin head-- can use 1xAA with the extender; 1xCR123A or 1xprotected RCR123 without the extender.
C2H head + Javelin body & tailcap--can use 2xAA batteries.
Most parts can be exchanged with Dereelight series flashlight
Check buld your own setup
Note:
XP-E R2- 4A neutral white tint.
XP-G R5- 1B0 tint
shipped to worldwide.